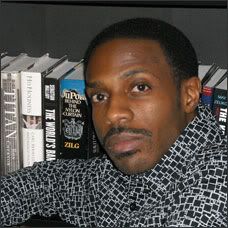 FOR IMMEDIATE RELEASE
RESPECTED POLITICAL STRATEGIST, MONETARY ECONOMIST & HIP-HOPPRENEUR, CEDRIC MUHAMMAD, RELEASES SELF-PUBLISHED BOOK
"THE ENTREPRENEURIAL SECRET: STARTING A BUSINESS WITHOUT A BANK LOAN, COLLATERAL OR REVENUE" HIT BOOK STORES NATIONWIDE ON 10/12
Washington, D.C. – From Wu-Tang to Washington and 'your street' to Wall Street, Cedric Muhammad has been offering up his unique perspective on National, Societal and World politics, events and affairs for many years via his radio show, "The Cedric Muhammad and Black Coffee Program." His analysis and advice are sought by World Leaders, Members of Congress, entertainers, activists, journalists and businesspersons and as President of CM Cap, he has advised a vast range of individuals and institutions from first-time entrepreneurs to international governmental bodies. He has also been published or appeared in respected financial media such as The Wall Street Journal and Bloomberg Financial News. Now, for the first time, Cedric has gathered all of his years of expertise together in a three-volume book series entitled "The Entrepreneurial Secret: Starting a Business Without a Bank Loan, Collateral or Revenue." These self-published volumes are loaded with how-to steps, rare historical research, personal testimony and a unique ability to connect political, cultural and economic realities and are aimed at anyone who has a small business, or is thinking of starting one and looking for a broad overview of the process.
"I wrote The Entrepreneurial Secret with the recently laid off professional, previously incarcerated individual, and single Mother in mind, as well as the Hip-Hop generation." Cedric Muhammad says of his series. "There is no single book or book series that I know of that properly and simultaneously connects how the political economy, personal struggle and business principles impact entrepreneurship. The public school system hardly teaches economics at all. I only received 4 weeks of it in my senior year of high school. The media can't explain it to the public in clear words and newspapers seem to only care about personal finance – 401 Ks, investing in the stock market and buying real estate - which is not entrepreneurship. The greatest source of wealth in this country has not come from investing in paper assets. It has come from building businesses. And lastly, the book publishing industry divides the subject of business into too many sub categories. All of this has contributed to ignorance and confusion. My clients and readers would always ask me for one book to recommend on the subject that would be comprehensive and I couldn't do it. So, I guess in The Entrepreneurial Secret I have attempted to write the book that they and I wanted to read."
Cedric Muhammad is uniquely qualified to address the economic needs and concerns of the Hip-Hop Generation having served for many years as General Manger of the multi-platinum music act, Wu-Tang Clan. Whilst with the group, Cedric negotiated its tour with Rage Against the Machine in 1997 and an endorsement deal with Pepsi Co. That same year, he established an inner-city consulting firm, advising McDonald's Corporation and the Department of Housing and Urban Development, among others.
In the Summer of 2004, Mr. Muhammad was hired by Source Enterprises CEO, Mr. David Mays, to serve as a strategic consultant to the CEO and The Source Magazine; then the most widely circulated Hip-Hop magazine in the world. The under 40 year old's unique background in the entertainment industry, congressional campaigns and media provide him with valuable skill sets and a network which he deploys in a variety of causes and ventures. An example is Cedric's brokering of a meeting between Congressman Bennie Thompson and Hip-Hop artist David Banner to discuss local and national economic empowerment, education and community development in July of 2005.
With the current decline of music sales and the shift towards more artists deciding to forgo the 360 deals that most major labels are now offering, there has never been a better time for a series of this nature to hit the streets. The Wall Street Journal reported in September that the current recession "is taking a particularly heavy toll on business creation, as sources of small-business funding dry up and would-be entrepreneurs become more risk-averse. When entrepreneurs do launch businesses, they are hiring fewer employees on average. The trends threaten to damp growth in jobs and economic output for years."
In "The Entrepreneurial Secret", Cedric Muhammad talks about the journey and adventure of entrepreneurship in spiritual, technical and practical terms in three Volumes. Volume I: The Political Economy deals with cultural, economic, and political factors that affect the bottom line of every business. It also explains how the financial crisis has impacted the ability of entrepreneurs to access capital and what they can do to finance their dreams, outside of the commercial banking system. Volume II: The Business Principles lays out Cedric's own experience, study and tips like the importance of building your personal power, mastering etiquette and networking, negotiating deals and writing business plans. Volume III: The Personal Struggle revolves around the uphill road that success in entrepreneurship requires and the toll it can take on relationships. It is a poignant volume showing how some of the best qualities of the entrepreneurial personality can create imbalance in your personal and domestic life as well. Volume III also points to how to embrace suffering and strengthen your willpower on a spiritual and scientific level.
"The Entrepreneurial Secret: Starting a Business Without a Bank Loan, Collateral or Revenue" is currently available via Amazon.com and at Barnes & Noble via BN.com. For more information go to http://www.theesecret.com/
ABOUT CEDRIC MUHAMMAD
Cedric Muhammad was named a Member of the African Union's First Congress of African Economists in November of 2008. He is a political strategist, monetary economist and business consultant who has advised members of Congress, multi-national corporations, music moguls, and foreign governments on strategy and economic policy. He has been published in the Wall Street Journal, and featured in American Banker. Before establishing his entrepreneurial development firm CM Cap, Cedric served as the General Manager of Wu-Tang Clan Management for the multi-platinum Hip- Hop music group. Muhammad attended Rutgers University majoring in Finance. THE ENTREPRENEURIAL SECRET: Starting a Business Without A Bank Loan, Collateral or Revenue is his first book.